SEO Agency Based in Tampa, FL
We provide professional, personal, and affordable search engine optimization services geared toward helping you understand your target audience and how to best reach them.
---

Free SEO Analysis
With our free search engine optimization analysis, we'll speak with you about your current situation, your goals, and your timeline in order to understand how we can best be of service to providing you with maximum search engine exposure.
We'll hop right into the code of your website and analyze your current SEO situation and where the chinks in the armor lie. We'll also check your current backlinks, check how much content you have on your website, and a myriad of other factors to determine where your efforts will be most valuable.
And we'll do it for free. Our goal is to help businesses like yours grow and we'd love to help you get one step closer to being where you want to be.

Keyword Recommendations
When partnering with you on your search engine optimization project, we'll speak with you, in detail, about your target demographics and how you'd prefer reaching them. We'll then help you develop a list of keyword combinations that are suited to your region, your state, your market, your industry, and your business. We'll then conduct research and make recommendations on which keyword combinations we feel would be the most profitable for your business.

Constant Monitoring
We monitor your search engine rankings on Google and Bing daily and weekly and note the smallest of fluctuations so we can constantly look for new opportunities to help you gain ground with your search engine rankings.
We also monitor and analyze your competition to understand where their weaknesses are so we can help you maximize your SEO efforts.

Weekly Reports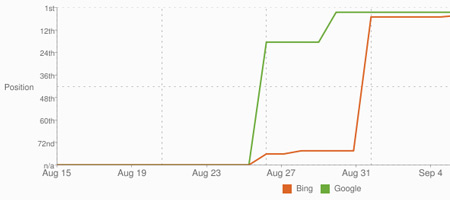 You'll receive weekly reports demonstrating your search engine ranking on Google and Bing, traffic sources, pageviews, locations of visitors, and other various bits of information to help you better understand your target audience and how to increase your productivity and visibility.

Additional Marketing
In addition to our SEO services, we also provide and assist in developing and maintaining search engine marketing campaigns and social media marketing campaigns geared toward instant visibility and communication with your target audience.
Drive Traffic to Your Website
Ready to get ignite your business and put our powerful, strategic creative solutions to work for you?
No matter if you're located in the Tampa area or if you are located internationally, we can help.
Just click below or give us a call at 813.644.9538 and let's get started rocketing your business forward!