Search Engine Marketing Agency Based in Tampa, FL
Our search engine marketing (SEM) services are focused on helping you generate quality traffic to your website from your target audiences.
---

Free SEO Analysis
Just like with our search engine optimization service, we'll provide you with a free SEO Analysis and speak with you about your current situation, your goals, and your timeline in order to understand how we can best be of service to providing you with maximum search engine exposure and website traffic.
We'll hop right into the code of your website and analyze your current SEO situation and where the chinks in the armor lie. We'll also check your current backlinks, check how much content you have on your website, and a myriad of other factors to determine where your efforts will be most valuable.
And we'll do it for free. Our goal is to help businesses like yours grow and we'd love to help you get one step closer to being where you want to be.

Keyword Recommendations
Just like our SEO service, when partnering with you on your search engine marketing project, we'll speak with you, in detail, about your target demographics and how you'd prefer reaching them. We'll then help you develop a list of keyword combinations that are suited to your region, your state, your market, your industry, and your business. We'll then conduct research and make recommendations on which keyword combinations we feel would be the most profitable for your business.
Our SEM service is focused on discovering who the optimal audience is and delivering content-specific ads.

Funneling Leads
We've developed methods to help pre-qualify prospects so that once that arrive at your site, their probability of contacting you is relatively high. We do this via a "funnel" technique, where we pre-qualify your candidates every step of the way.
By starting out on the right foot, we ensure that we are delivering the right message to the right people at the right time.

Ad Development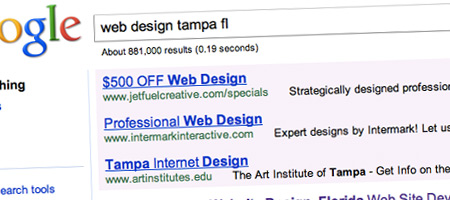 We'll develop ads and implement campaigns that speak directly to your target audience in the most efficient means possible. These ads will be focused on your businesses' differentiating benefits and how they relate to your prospects.
We'll implement campaigns utilizing different types of ads, different types of demographics, and different keyword combinations, all to determine the optimal response rate.
We'll also develop unique landing pages designed for each corresponding ad to make sure that when someone visits your website via an ad, the content they see relates to the ad they clicked on.

Constant Monitoring
We monitor your traffic and click-through rates constantly to make sure we are meeting expectations and looking for new opportunities to help provide greater brand awareness and deliver more traffic to your website.
We also monitor and analyze your competition to understand where their weaknesses are so we can help you maximize your SEM efforts.

Weekly Reports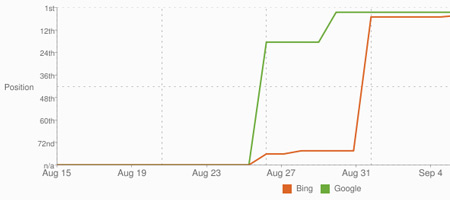 You'll receive weekly reports demonstrating your search engine marketing statistics to help you understand who is visiting your site, when, and how they are arriving there.

Additional Marketing
In addition to our SEM services, we also provide organic search engine optimization and social media marketing campaigns to help maximize your brand awareness and deliver more traffic to your website.
Get Instant Website Traffic
Ready to get ignite your business and put our powerful, strategic creative solutions to work for you?
Just click below or give us a call at 813-644-9538 and let's get started rocketing your business forward!